\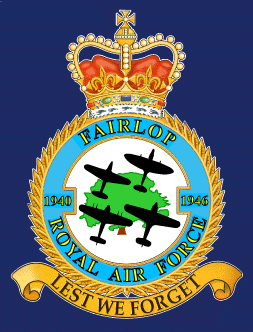 Memories of
Flying Officer Kenneth Albert John Trott
Life at RAF Fairlop with 195 Squadron.
This page is likely to be updated as new information comes to light.
---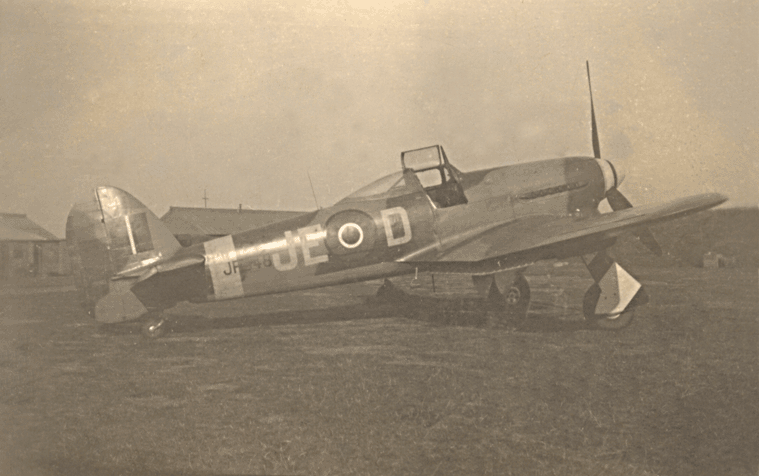 Typhoon 'JED' airframe JP648 which flew from Fairlop as part of 195 Squadron by Flying Officer Kenneth Trott.
The photograph shows the distinctive black/white markings used for identification purposes, as to some people Typhoons resembled FW190's!
Prior to 'D' Day additional invasion stripes were added.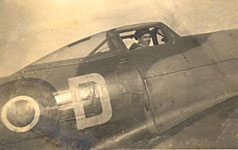 'JED' later went to 164 and 257 squadrons and finally to 57 O.T.U. before being 'Struck off charge' in June 1945. The photograph taken by Ken, at Ludham, Norfolk, before the move to Fairlop.
Photographs on this page are reproduced with kind permission of Kenneth Trott.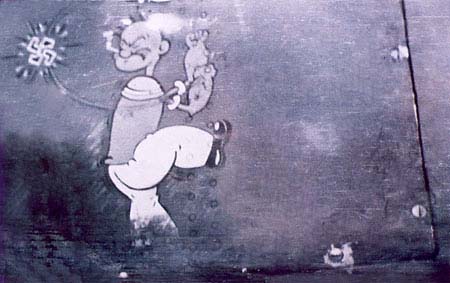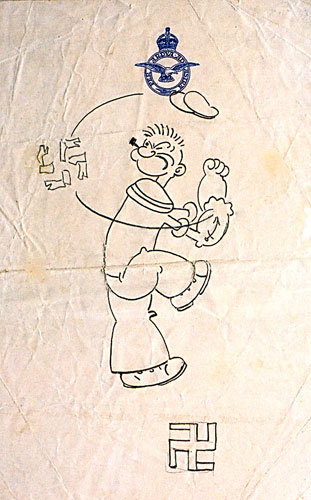 He considered JED to be his personal aircraft
and decorated it with a 'popeye' motif!
The original artwork drawn on RAF notepaper used by groundcrew who painted it on the engine cowling.
The complete swastika underneath was used to get the proportion right and not used on 'JED'.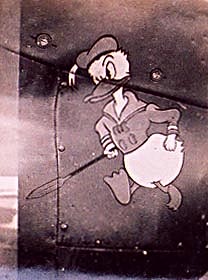 Not to be outdone, his C/O Donald Taylor
painted Donald Duck on his Typhoon.

Ken and his fellow pilots were quartered in the mess at Hainault Lodge, at the eastern end of Forest Road on Hog Hill.
Whilst at Fairlop he was invited to visit the Plessey factory in Ilford where they made cartridge starters for Sabre engines, used on Typhoons.
He went underground at Gants Hill to see the Plessey Engineering workshops in a newly completed tunnel,
later to become the Underground extension to Hainault.
He also visited the Napier Sabre Factory at Acton, to see engines being made and tested.
He was ordered to report to the M.T. Section for driving lessons, as all pilots were required to be able to drive a motor vehicle.
Whilst Ken was entrusted with a Typhoon and quite able to fly it, he was not qualified to drive!
He started off in a Bedford truck driving around the perimeter track and having mastered the controls, his instructor allowed him out onto the highway and on to Ilford Broadway.
Ken says it was quite useful to be about ten feet of the ground and see all that was going on!
Extract of Kens operations with 195 Squadron from RAF Fairlop

Date
Details of Operation
20 October 1943
Battle formation and Rendevous
22 October
Fairlop to Manston. - flying time 30 minutes.
Withdrawal escort to 36 Bostons. Light flak going in and no enemy aircraft seen.
- 1 hour 20 minutes
Manston to Fairlop - 30 minutes
24 October
Fairlop to Coltishall - 30 minutes
Air Sea Rescue Escort to Walrus
1 Marauder ditched. 1 Body picked up.
Aircraft seen ditched in shallow water
25 October
Coltishall to Fairlop - 30 minutes
7 November
Fairlop to Manston. - 30 minutes.
Escort to 3 Squadron (Typhoon F/B)
9 November
Manston to Fairlop- 30 minutes
11 November
Fairlop to Manston. -30 minutes
Escort to Typhoon F/B.
1 December

Manston to Fairlop- 30 minutes
Fairlop to Manston. - 30 minutes
15 December
Operation Rhubarb -1 hour
19 December
To Hutton Cranswick (25 miles east of York) Air firing.
3 January 1944
Return to Fairlop -40 minutes
9 January
Operation Rhubarb - 1hour.
23 January
Dive bombing (France) - 55 minutes
25 January
Dive bombing (France) - 1 hour
29 January
Dive bombing (France) - 1 hour 5 minutes,.
February
195 Squadron disbanded.
Joined 197 Squadron at Tangmere.
---
return to Memories of Kenneth Trott
return to Memories and Sacrifice
Click here to email David Martin
Page created 29 July 2002 and updated 17 August 2002