In 1956, the couple assisted I.N. and Bernadine Hagan in choosing the furniture for the Hagan's Frank Lloyd Wright house at the architect's suggestion. In 1959, Paul designed the jacket of a book about Wright, Drawings for a Living Architecture, which was edited by Giuseppe Samonà.

In 1970, shortly after the first Earth Day, Mayén became an outspoken critic of the growing American habit of buying expendable plastic furniture that was used for only a few years and then thrown away. He claimed that the economic success of plastic furniture relied on the producers creating a mentality among consumers that the items were durable enough to last but cheap enough to replace.

In 1975, he built a country house for them in Garrison, New York. From 1979 to 1981, he oversaw the building of the Fallingwater pavilion which houses a café, gift store, and visitor's center. When Edgar Jr. died, Paul scattered his ashes at Fallingwater. He died in 2000 and also had his ashes scattered there.

Frank Lloyd Wright designed one of the world's most revered architectural landmarks, Fallingwater, when he was 68 years old. It revitalized his career. Over the next 24 years, he sketched and built over a hundred other buildings. Most of these new creations exhibited the same elements of style as Fallingwater. Everyone, it seemed, wanted their own "house over the river".

Paul Mayén designed one of the world's most revered gift stores when he was 61 years old. But despite many presumed subsequent offers, he never built another.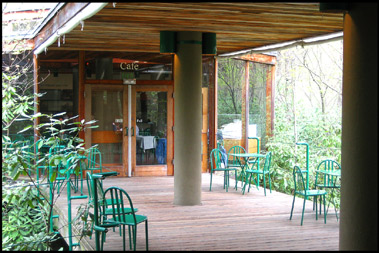 Paul Mayén's café at Fallingwater