---
The 7,137th Most Popular Website on the Internet (for a Day), according to alexa.com: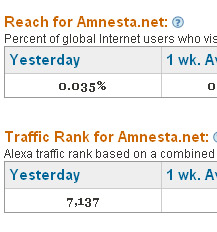 My page on How to Win at Monopoly was picked up by a number of bookmarking sites, such as digg.com, as well as many blogs and the New York Times website on November 6, 2007. It was really popular for a day or two, reaching one out of every 3,000 internet users.


---
All text and pictures copyright © 2008 Tim Darling.